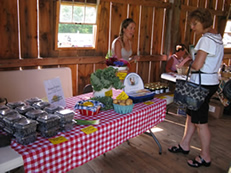 Once again, farmers from Erie and Crawford Counties will be featured at Goodell Gardens Farmers Market, which opens June 19, 2013.  The Market will be held Wednesdays from 3-6  p.m., through Sept. 25.
Confirmed vendors include Beelzebub's Salsa, Cambridge Springs, B & R Greenhouse, North East, Byler's Relish House, Saegertown, Honey House Holistic Bakery, Waterford, Hurry Hill Maple Farm, Edinboro, Karen's Garden Gate Salad Factory, Edinboro, Lil Bit' O' Honey, Edinboro, Peace by Piece Farm, Waterford, Pine Run Farm, Conneautville, Raup Aquaponics, Conneautville, Schultz Farm, Saegertown, Showman Farms/Conneauttee Creamery, Edinboro, Strawberry Lane Produce, Conneaut Lake, Tender Acres Farm, Cambridge Springs, and Vanco Farms , Edinboro.
Offering produce, meat, cheese, eggs, honey, baked goods, maple products and more, residents might even be able to plan an entire meal from purchases from our vendors – complete with dessert!
Again this year, Goodell Gardens Farmers Market will accept the Farmers Market Nutritional Program Vouchers that are offered to eligible senior citizens and WIC recipients. For more information about these vouchers, or to receive your vouchers, contact your WIC office, or call (814) 756-5373. The Farmers Market Nutritional Program is offered by the Pennsylvania Department of Agriculture.
The market will be held in the Events Barn and the surrounding events lawn, which is situated within easy access to our parking areas. For more information call (814) 734-6699 or email info@goodellgardens.org.