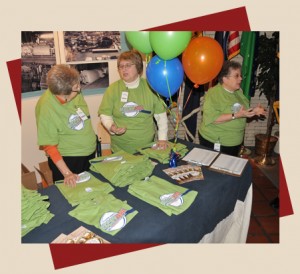 Erie Yesterday (EY) is a consortium of historically related organizations. The organization was created with the purpose to promote an awareness of the history, historic sites and museums of Erie County, provide a unified voice for the heritage community and provide a cooperative public relations program. Visit Our Members to view a current listing of organizations involved with EY.
The organization fulfills its purpose through a number of activities and projects. The DiscovERIE Passport project, which was supported in part by The Erie Community Foundation and Highmark Blue Cross Blue Shield, History Quest summer camp, and the Erie Yesterday brochure (FRONT/BACK) are examples of the organization's collaborative efforts.
What else has EY done? In response to a collaborative Community Asset Grant proposal, Erie County Gaming Revenue Authority awarded funding to Erie Yesterday on behalf of five groups in 2013. The award, which totaled $7,904, funded projects at the Fairview Area Historical Society, Harborcreek Historical Society, Edinboro Area Historical Society, and North East Historical Society.
In February 2014, Erie Yesterday launched the Out of the Box project, a multi-stage project culminating in the production and promotion of Erie County history curriculum resource kits. The purpose of Out of the Box is to create resources to improve educators' comfort in teaching local history and help students explore the history of Erie County. Seven member historical societies and museums participated in the Out of the Box project, which was in partnership with Edinboro University of Pennsylvnia's History, Anthropology and World Languages Department and College of Education.
Why does EY do what it does? Erie Yesterday's member organizations encourage the public to study local history. They collect, safeguard and make accessible artifacts, documents, photographs and oral histories, which they hold in trust for the community; and are ideal learning environments, whether it is formal or informal learning, active hands-on participation or passive observation. And, in studying the community's story the public gains access to and an understanding of the forces that affect their lives, and emerges with an enhanced capacity for informed citizenship, critical thinking and simple awareness. The end result is a healthy respect for oneself and the community.