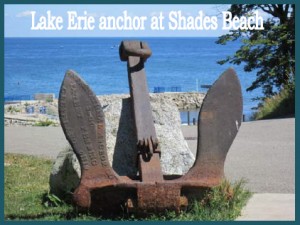 Many shipwrecked vessels sit at the bottom of Lake Erie between Presque Isle Bay and North East, and scuba diving at these wrecks has long been a popular pastime. In September of 1964, Gene Heuser and Charles (Chuck) Miller brought to the surface a 3,000 pound anchor from the depths of Lake Erie while diving between 6 Mile and 7 Mile Creeks. The event garnered local attention and was recorded in the Erie Times News and the Harborcreek newspaper, The Weekly Sentinel. According to the The Weekly Sentinel, the men were able to bring the anchor to the surface by sinking barrels and inflating them after they were tied to the anchor. After the anchor was brought to the surface, Joe Skindall towed it to Chuck Miller's home on East Lake Road where it sat until a few months ago.
With the assistance of the Harborcreek Historical Society, the anchor was donated to Harborcreek Township by Rita Miller (widow of Chuck) and relocated to Shade's Beach.
The Harborcreek Historical Society thanks Mrs. Miller and her family for donating the anchor to the township and Harborcreek Township Supervisors for making sure it arrived safely at Shade's Beach.