TNT and KOW Explosive Topics for Edinboro Area Historical Society's Annual Dinner January 25th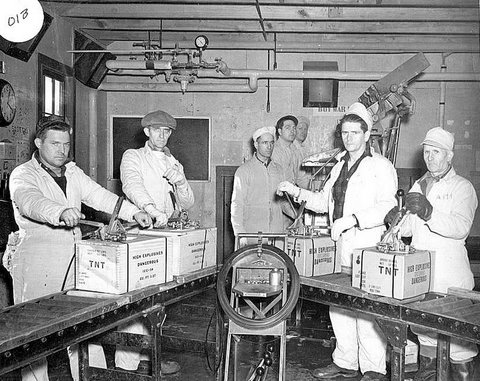 What is TNT?  How did KOW impact rural Edinboro during World War II?  Find out these and other interesting facts about nearby Geneva in southern Crawford County when you attend the Edinboro Area Historical Society's Annual Meeting on Wednesday, January 25th.
Mr. Sandy Porter, from the Crawford County Historical Society, will talk about the long known but little understood Keystone Ordnance Works (KOW) which was located near Geneva in Greenwood Township, south of Meadville.
One of the largest ammunition plants in the United States, the Keystone Ordnance Works supplied TNT, an explosive for making bombs in World War II.   When in full operation, the plant covered nearly 25 square miles of farmland (15,000 acres) and employed 8,000 people during its short life.
The Keystone Ordnance Works manufactured TNT from the time it came on line in October of 1942 until the end of the war.  Put up for sale by the General Services Administration (GSA) with a price tag of $53 million, it was eventually "mothballed" and made a satellite facility of the Ravenna Arsenal in Ohio.  As late as 1956, the plant still had a workforce of 70 employees, most of whom provided ongoing maintenance to the historic facility.   In the early 1960s it was sold and many buildings were removed from the grounds to be used in nearby communities like Cochranton, Edinboro and Meadville. Approximately 50 original structures still remain on site.
The Edinboro Area Historical Society's Annual Meeting and Dinner will be held at Nick's Place, 12246 Edinboro Road (1.6 miles north of Rt. 6N on Rt. 99) on Wednesday, January 25th.  The cost of the dinner is $18 for members and $19 for non-members.  Attendees can select a beef, chicken, or vegetarian meal.  The deadline for reservations is Friday, January 20th. Send reservations to Dr. Ihor Bemko, P.O. Box 342, Edinboro, PA, 16412.  Make check payable to EAHS with "dinner" on the comment line.  The doors will open at 6:00 PM with dinner starting at 7:00.
Caroline Rhodes, Chairperson for the EAHS Endowment Committee announced that a basket auction will be held at the meeting to raise money for the Doucette House Museum's Endowment Fund. Phyllis Woods, EAHS President, encourages members and non-members alike to bring their wallets and checkbooks to help support this worthwhile cause that will provide funds to maintain the society's headquarters.
EAHS members can pick up their copy of The Fountain, the society's annual historical journal at the dinner.  Editor Kathy Montgomery recently announced that the feature articles in this year's edition will cover area residents who served in the Civil War.
Sandy Porter, a Crawford County Historian, will present the program on the Keystone Ordnance Works.  Mr. Porter, a retired Pennsylvania State Policeman with 25 years of service and currently a private investigator for the Woodring Detective Bureau, is well known in Crawford County for his wide range of historical interests.  Besides researching the history of the Keystone Ordnance Works, he has worked on many other historical projects in Crawford County.  He is a member of the Board of Directors of the John Brown Heritage Center, an active member of the American Society of Amateur Archeologists and has conducted archeological excavations at the John Brown Tannery.  He recently completed a comprehensive survey of school and church bells in Crawford County and currently is using sonar to locate sunken boats in Conneaut Lake and to search for "wayward" test torpedoes in Pymatuning Lake.