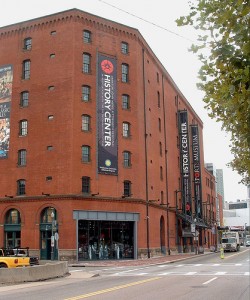 Have you ever wondered how large museums care for their collections and create exhibits? If so, this is the trip for you and your fellow staff and volunteers. On October 1st, Erie Yesterday will go behind-the-scenes at the Heinz History Center, and see how they store and care for their object and archival collections. We'll have the opportunity to talk with History Center staff from the library and archives and their exhibit design team. This is a great opportunity to learn museum tips and tricks that will be useful in your own historical society or museum.
Transportation is provided, as Erie Yesterday has rented a 15-passenger van for the day. Participants may pack a lunch or grab a quick lunch at the History Center's cafe. We will stop for dinner at an exit along I-79 on the return trip to Erie.
What: A Behind-the-Scene Tour of the Heinz History Center
When: Saturday, October 1, 2011, 9:00 am to 8:30 pm
Where: We will depart from Enterprise Rent-A-Car at 5757 Peach Street, Erie at 9:15 am. There is a parking lot at Enterprise where we will be able to leave vehicles.
Cost: $30/person (Cost includes transportation and admission fees.)
RSVP: If you wish to join us for the day, please register and pay by September 28th. To register, email Linda Waha at psuparent2@yahoo.com or mail your payment to Heinz Trip, Erie Yesterday, 419 State Street, Erie, PA 16501. You may also register and pay at the August 24th and September 28th Erie Yesterday meetings.