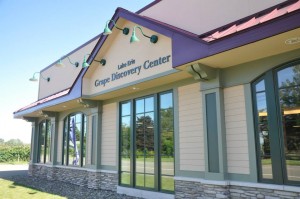 September 13th and 14th is the grand opening weekend of the Grape Discovery Center in Westfield, NY. The center features gorgeous displays that tell the history of grapes in the Concord Grape Belt Heritage Area, a wine tasting bar, gift shop, outdoor seating and more!
Construction of the Grape Discovery Center began in early 2010 at a site located just southwest of Westfield, New York in the heart of the Concord Grape Belt Heritage Area. The Grape Discovery Center is envisioned as the primary visitors center for the heritage area as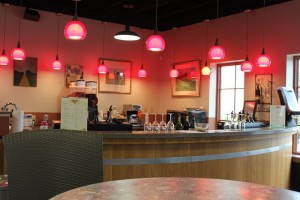 well as an educational resource. Some displays are historic, some modern, all inform and educate about grape topics. Visitors are encouraged to stop at the Grape Discovery Center where they can learn about and are encouraged to explore the heritage area's varied trails, byways, communities, and attractions.
Exhibit installation was completed August 30 and took three full days. It was overseen by Ellie Brysom-Halley, President of Geckgroup (the exhibit design contractor), Mackenzie Cady, Grape Discovery Center Manager, and Andy Dufresne, Chair of the Exhibits Committee.