Erie Yesterday recently received a $10,000 grant from Highmark Blue Cross Blue Shield in support of the Let's Move Outside! Erie County Recreational Passport. The Let's Move Outside! Erie County Recreational Passport is a collaborative program of Erie Yesterday, Erie County Health Department and VisitErie, and is Erie County's pilot initiative as a Let's Move! County.* It weaves together art, heritage and healthy living. The overarching goal of the program is to promote outdoor physical activity to people of all ages who live in Erie County.
"Highmark has a strong commitment to helping individuals develop and maintain healthy lifestyles," said Neil Parham, Highmark senior community affairs specialist. "Through our support of this program, we hope to encourage individuals to use the trails in our local parks as a place where they can exercise while enjoying the beautiful scenery of our community."
With the support of Highmark, the LMO! Passport launched in 2012 with ten Erie County walking/biking trails, including rural trails in Union City Area School District, Fairview Township, Washington Township, Asbury Woods Nature Center and Harborcreek Township and urban trails in the City of Erie, North East, Corry, Waterford and Girard. The LMO! passport has trail maps, trail information, local history content and other interesting things to see and do within each trail community, and will be available at locations throughout Erie County during the summer. During that first year, more than 700 participants registered online and over 8,000 passport booklets distributed.
The second year of the program is scheduled for May 24 – October 20, 2013, and five new recreational trails have been added to the program, bringing the total number of LMO! Passport trails to fifteen. These new trails are located in Lawrence Park, Albion, Lowville, Greenfield Township and McKean.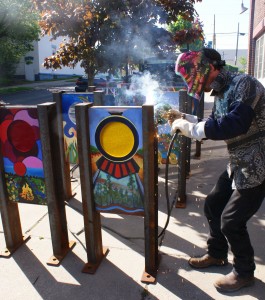 A trail marker placed near the middle of each trail serves two purposes: to identify the trail as a passport trail and present necessary program information. Once again, local artist Tom Ferraro designed and constructed five public art pieces which will serve as the LMO! trail markers for the five new trails. Using methods he learned as a residency artist, Mr. Ferraro engaged youth from each of the new trail communities in the design process. Markers are scheduled for installation in May.
Why? In 2010, First Lady Obama launched Let's Move!, a national campaign encouraging counties, cities and communities to use local resources such as museums, parks, trails and schools to help children and adults be more active. Erie County offers many opportunities for recreation and fitness with more than 140 parks and trails, dozens of annual walks, runs and outdoor clubs, and many cultural sites and attractions to explore. Despite these great opportunities for physical activity and outdoor fun, Erie County joins communities throughout the nation in the "battle of the bulge." The 2009 Erie County Adult Profile found that 65% of all Erie County adults are overweight or obese. Recent data from the Pennsylvania Department of Health Growth Screens 2007-2008 shows that the City of Erie has some of the lowest percentages of healthy body weight among school-aged children.
How does it work? STEP #1: Register on the program website www.letsmoveoutside.org. Registration allows you to document your progress and work your way toward qualifying for the grand prize drawing in November. STEP #2: Walk, run or bike the passport's 15 trails and find the single artist-designed marker located along each trail. A unique 10-digit pass key is displayed on each trail marker. Once you find a marker, record the pass key in your passport booklet. (Remember to take a pen or pencil with you!) You can log in to the program website at any time and enter the pass key. After entering all 15 pass keys, you are automatically entered into the grand prize drawing. You could win a mountain bike or one of several other great prizes.
The program runs May 24 through October 20, 2013. Grand prize winners will be drawn and awarded by November 30. The program is supported by Highmark and many other local businesses and community partners, such as ArtsErie, The Erie Community Foundation, Erie Reader, Eriez Magnetics, Lilly Broadcasting, and EnjoyErie.com.
Behind the Scenes
The LMO! planning team is now working with fifteen community teams which are providing content for both the printed passport and the LMO! website, assisting with distributing passports and other print materials, and offering general support to the project. Each team consists of 3-4 members, many of whom are historical society/museum volunteers, borough managers, township supervisors, community leaders, and art teachers.
Organizational partners, such as the American Heart Association, YMCA of Greater Erie, Erie County Public Library System, Tom Ridge Environmental Center, the French Creek Council (BSA), and Girl Scouts of Western PA are committed to engaging the broader community in the LMO! program and making Erie County a Let's Move! community.
*Erie County was recently awarded four bronze medals, one silver medal and one gold medal for their work as an official "Let's Move! County." To learn more about Erie County's progress, visit the Healthy Communities for a Healthy Future website at http://www.healthycommunitieshealthyfuture.org/places/#Erie%20County,%20PA.