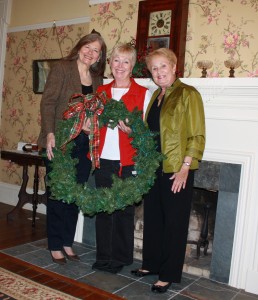 Carole Smith and Annie Williams, co-chairs of this year's Edinboro Area Historical Society's holiday house tour, excitedly announced that the "Sparkling Christmas of 2013" event will include tours of two of Edinboro's stately houses.
"The Sparkling Christmas of 2013" will feature many decorated rooms, along with a Santa's Workshop complete with candy and toys for the children, in the historical society's Doucette House Museum, located at 126 Water Street.. Local businesses and service organizations will decorate individual rooms in the Doucette House Museum. Santa's Workshop will be included in the tour. This will be a popular spot where children can meet Santa and Mrs. Claus and receive a free toy and candy from the popular couple. A photographer will be available to provide free holiday pictures of the guests who tour the house.
Edinboro's own Pat Crist, a recently retired school principal, is in charge of coordinating the groups and overseeing the decorations in the Doucette House Museum.
This year an additional house is being added to the tour. The Alice Evans Manor/Taylor House and Solarium, which is located at 139 Meadville Street, will be available to the touring public. The Brent Willey family has graciously offered to open its stately brick Victorian mansion and allow the historical society's guests to tour it. "The Willey's have been restoring this popular Edinboro landmark for the last two years. The visitors on the holiday tour are going to be in for a real treat," said Carole Smith, co-coordinator for the holiday program. The structure was last owned by Edinboro University of Pennsylvania and served as the site for off-campus offices.
Carole Smith and Annie Williams stated that "The Sparkling Christmas of 2013" is scheduled for Saturday and Sunday, November 16th and 17th. Both houses will be open from Noon to 4:00 PM. Tickets to tour BOTH houses are $10.00 for adults and $5.00 for Children age 12 and under. Tickets are available from any Edinboro Area Historical Society board member or can be purchased at Brink Ink at 6430 Route 6 West and Lady Gray Antiques at 114 Erie Street in downtown Edinboro. Tickets for the Christmas tour also will be available at the entrances to both houses during the tour dates.
For more information about "The Sparkling Christmas of 2013"or to schedule group tours, interested guests should call Carole Smith at 814-734-4067. Note the Alice Evans Manor/Taylor House and the Victorian Solarium are not handicapped accessible.
Photograph Caption: Pat Crist (left) and co-chairs Annie Williams and Carole Smith gathered in the parlor of the Doucette House Museum to make plans for the Edinboro Area Historical Society's popular seasonal house tour "The Sparkling Christmas of 2013."