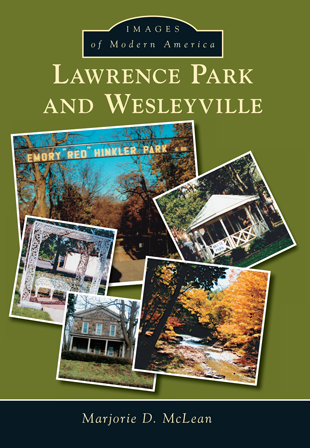 "Lawrence Park and Wesleyville" by Marjorie D. McLean was released by Arcadia Publishing October 12th. The book, which retails for $22.99, is part of their Images of Modern America series.
Lawrence Park Township and Wesleyville Borough are communities proud of their comfortable residences, many churches, parks, and business districts. Wesleyville grew along Buffalo Road, while Lawrence Park was developed by the General Electric Company a century later. Four Mile Creek, with its picturesque wanderings, is shared by both communities, and local legend suggests that it might have played a part in the Underground Railroad and the activities of rumrunners. In the early 1960s, the rival schools of the two communities merged to form the Iroquois School District. Amazingly, in 1965–1966, the first year of the merged district, the football team won the Erie County league championship. Many more accolades have come to Iroquois students for athletics, music, art, and intellectual achievements, and it is certain that they will continue, so "Roll on Big I."
Author Marjorie McLean has lived in Lawrence Park since 1955 and was an Iroquois guidance counselor from 1963 to 1989. She is the author of "Lawrence Park" and a current member of the Lawrence Park Historical Society, the Iroquois School District Foundation, and the Iroquois School Board.
"Lawrence Park and Wesleyville" may be purchased through the Lawrence Park Historical Society (814-899-1505).
"Lou Tullio: A Real Erie Guy" was released in mid September by the Jefferson Educational Society. The book is the most comprehensive book to date on Erie, Pennsylvania's 6-term Mayor, Louis J. Tullio (1916-1990). Published by the Jefferson Educational Society, this book – written by Cory Vaillancourt – offers a revealing look at the life and times of one of the most significant and heavily mythologized politicians in the history of Erie.
Originally from Illinois by way of Nevada and Georgia, Cory Vaillancourt is a freelance writer; after graduating from the University of Chicago where he focused on the history of Soviet Russia, he spent more than a decade as a political campaign consultant working for Republican and Democratic candidates across the country. Upon moving to Erie, Vaillancourt joined the Erie Reader – first as a contributor, then later as a contributing editor and editor-at-large.
To purchase a copy of "Lou Tullio: A Real Erie Guy," contact the Jefferson Educational Society.