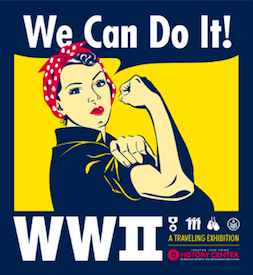 You're invited to the opening of "We Can Do It!," a traveling WWII exhibit of the Heinz History Center, Saturday, August 12th 11:00 am  – 7:00 pm at the Hagen History Center, 356 West Sixth Street. Festivities include performances by The Everly Sisters, WWII re-enactors, and refreshments.
The event is sponsored in part by the Erie Federal Credit Union.
Tickets Costs: $10 Adults, $7.50 Seniors and Veterans, $5.00 Students. The event is free to Erie County Historical Society members.
Tickets will be available at the door. To pre-order tickets, call 814.454.1813 or email at events@eriehistory.org. Pre-sold tickets will be held at the door with a separate check-in, or can be picked up Tuesday – Friday 11:00am – 5:00pm.
The "We Can Do It!" World War II traveling exhibit developed by Heinz History Center explores Western Pennsylvania's incredible impact on the home, industrial, and battle fronts during WWII and includes artifacts from the collections of the Erie County Historical Society and the Erie community. It is funded in part by The Eberly Foundation, Institute of Museum and Library Services, and Erie Insurance.
The exhibit will run August 12 – November 28, 2017.