Goodell Gardens Farmers Market joins markets across the country in celebrating National Farmers Market Week from August 6-12. Goodell Gardens Farmers Market is held each Wednesday from 3-6 p.m. from mid-June through September
The National Farmers Market Week celebration at Goodell Gardens will take place on Wednesday, Aug. 9 from 3-6 p.m., and will include fun, family-friendly activities including a hay bale toss competition, a farmer fashion show (come dressed like a farmer, and their vendors will vote on their favorite farmer fashions), rock painting, an acoustic jam session, and more!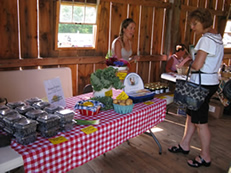 As demand for local food continues to grow, so too have the opportunities for America's farmers to market fresh food directly to the consumer. According to statistics recently released by United States Department of Agriculture (USDA), farmers markets and farm stands account for roughly $2 billion of the $3 billion that Americans spend annually on farm-direct products. This revenue, in turn, supports the livelihoods of more than 165,000 mostly small and mid-sized farms and ranches.
Goodell Gardens Farmers Market has served Edinboro and the surrounding communities since 2010, when the Gardens first recognized the need for access to fresh, local foods in Edinboro. Today, the market hosts an average of 15 vendors per week who bring a wide variety of products to market including produce and herbs, beef, pork, chicken, eggs (both chicken and duck), microgreens, farmstead cheeses, honey, maple products, salsa, baked goods, fungi, cut flowers, ice cream, coffee, bath and beauty products, plant starts and house plants, and more!
"The very ground we grow on here at Goodell Gardens & Homestead was the home to the Goodell family's farm for three generations. We aim to foster understanding and appreciation of agriculture and connect our community with our local agricultural heritage," Goodell Gardens Farmers Market Manager Amber Wellington said. "By hosting our weekly Farmers Market, we are able to put the consumer in direct contact with the food producer, and that's something very special in modern America."
Goodell Gardens Farmers Market accepts SNAP via EBT for all qualifying food purchases. Visit the Goodell Gardens tent for more information on this program. Many vendors also accept the Farmers Market Nutritional Program (FMNP) vouchers from WIC recipients and low-income seniors. Market vendors are encouraged to accept credit/debit cards as payment, and many do. There is no fee for parking or admission to the weekly market.
"Farmers markets play a vital role not just in generating real income for farmers, but in forming healthy, prosperous food systems," says Jen Cheek, Executive Director of the Farmers Market Coalition. "By providing the opportunity for farmers to connect directly with consumers, markets serve as education centers. Vendors are teaching customers about agriculture and sharing recipes and new foods with their neighbors. Markets are making people and communities stronger and healthier."
Goodell Gardens is located at 221 Waterford St. (Route 6N) in Edinboro. For more information, visit www.goodellgardens.org.