It's that time of year again!  The Edinboro Area Historical Society is getting ready to put up the big white tent on the lawn of the Doucette House Museum, and volunteers are to serve fresh blueberry crisp a la mode.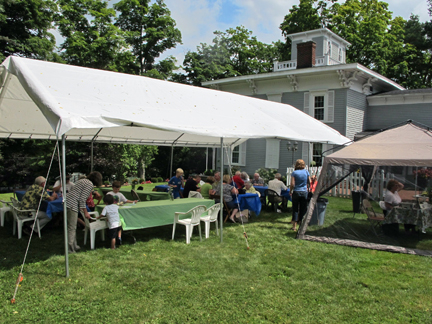 The Society's annual Blueberry Social is scheduled for August 6th 1:00-4:00 pm.   Tickets are not required; the Society is accepting donations, though. The Doucette House Museum is located at 126 Water Street (corner of West Normal and Water Streets) in Edinboro.
The Doucette House Museum is open to the public during the social, and the Society encourages visitor to tour the house and do some "seasonal" shopping in the museum's gift shop. (Remember, it's only five months until Christmas and out-of-town friends and relatives might like a "remembrance" of Edinboro!) Admission to the Doucette House Museum is always free.
The second floor rooms of the museum currently feature an exhibit highlighting 100 years of Walker Brother's Buick Chevrolet dealership and "Three Voices From The Grave," the society's newest exhibit which just opened in mid-June.
Questions? Visit www.edinborohistory.org.