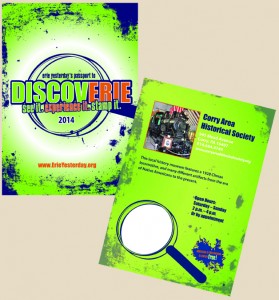 Erie Yesterday – a consortium of Erie County museums and historical societies – is pleased to announce the return of the DiscovERIE Passport. The DiscovERIE Passport is a 4 ¼" x 6" booklet which is redeemable for (1) FREE student admission and (1) FREE adult admission at 23 historic sites, and Erie Yesterday distributed more than 3,500 of them to 4th grade students throughout the County. Students have approximately three months this summer – Memorial Day through Labor Day – to use their Passport. If they visit 10 or more museums, students can return their Passport to Erie Yesterday and receive a project t-shirt. Students visiting fifteen or more museums can enter their passport for a chance to win prizes, such as anew Haro Z1 bike.
The DiscovERIE Passport encourages families to spend time together learning and exploring, and we look forward to seeing it in action!
The project is supported in part through funding from the Erie County Gaming Revenue Authority and Erie Arts & Culture. Thank you!