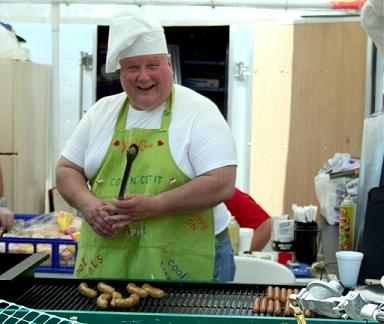 Thursday afternoon arrives and the luring smells of kettle corn, funnel cake and hot sausage sandwiches fill the air. Booths filled with hand-crafted treasures line the street, and the band can be heard playing in the park. The Dan Rice Days celebration has begun!
For more than 20 years the people of Girard, Pennsylvania have gathered annually to celebrate the life and times of famous circus man Dan Rice. Dan Rice was a charismatic and charming performer, a quick-witted comedian, and a gifted animal trainer, singer, dancer and speaker.  He was an amazing showman and friend to the community.
The 2 ½ day festival is scheduled for July 30 – August 1, 2015 and includes an assortment of activities. The 3 on 3 Basketball and Slow Pitch Softball Tournaments and 5K Race a few of the festival's most popular sporting events. This year the schedule includes a merchant auction and carriage rides of downtown Girard. The Dan Rice Days parade is an annual Saturday morning tradition. Two thousand or more people line up to the watch fire trucks, ambulances, Civil War re-enactors, the local high school band, and antique vehicles. A Civil War re-enactment will be located on the grounds of Dobler Hose Company. And, as always, the festival offers an artisans and crafters area, live musical performances by regional musicians such as Tennessee Back Porch, a children's play area coordinated by Edinboro University, and classic car show at McQuillen's Auto. (See event schedule.)
Want to know who Dan Rice was…click here.