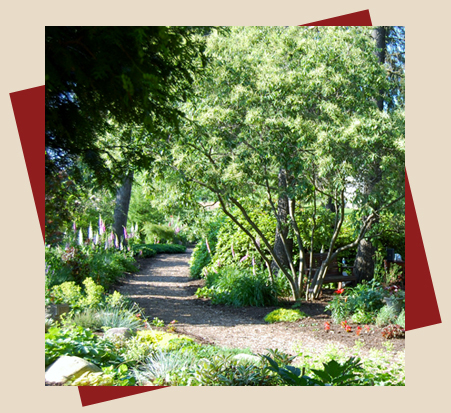 Learn how the plants in your backyard are used in craft cocktails during Goodell Gardens' upcoming fundraiser: Botanical Beverages, from Gardens to Glass, on Friday, June 19. During the event, which will take place from 7 – 9 p.m. in the Gardens, patrons will have the opportunity to enjoy botanically-themed craft cocktails made with regionally-distilled spirits and mixers.
Tour Goodell Gardens beautiful grounds while visiting four drink stations located at the base of trees in the Gardens.  At each station, visitors will have the choice between one or two cocktails themed after the tree they're observing, and will find out how that tree is related to what's in their glass. Trees on the list include Goodell's State Champion Paper Birch Tree (Betula papyrifera), where birch beer cocktails will be featured; the Red Oak (Quercusrubra)tree, where bourbon drinks will be featured; the large Sugar Maple (Acer saccharum) tree, where cocktails featuring maple syrup will be featured; and the Yellow Transparent Apple Tree (Malusdomestica 'Yellow Transparent') , where hard cider will be featured. A mocktail will also be available at each station for designated drivers and non-drinkers. Cocktails will feature Dad's Hat Pennsylvania Rye Whiskey (Bristol, Pennsylvania), Arsenal Wine-Style Hard Cider (Pittsburgh), Maggie's Farm White Rum (Pittsburgh) and Five and 20 Bourbon (Westfield, New York).
Patrons will also have a chance to sample farm-fresh hors d'oeuvres, made from goods from Goodell Gardens Farmers Market, listen to live music by Picks & Hammers String Band, and play traditional lawn games like croquet, bocce and badminton. "We're designing this event to feel like a garden cocktail party on a farm," Goodell Gardens Spokeswoman Amber Wellington said. "We've chosen early-American spirits and a string band to help showcase our agricultural heritage here in northwestern Pennsylvania and more specifically, at Goodell Gardens."
Tickets will be sold in advance only, are $45 per person, $25 for designated drivers (mocktails will be available), and are available to folks 21 and older only. Purchase your ticket today at http://goodellgardens.org/2014/?p=1023, as they will go fast!