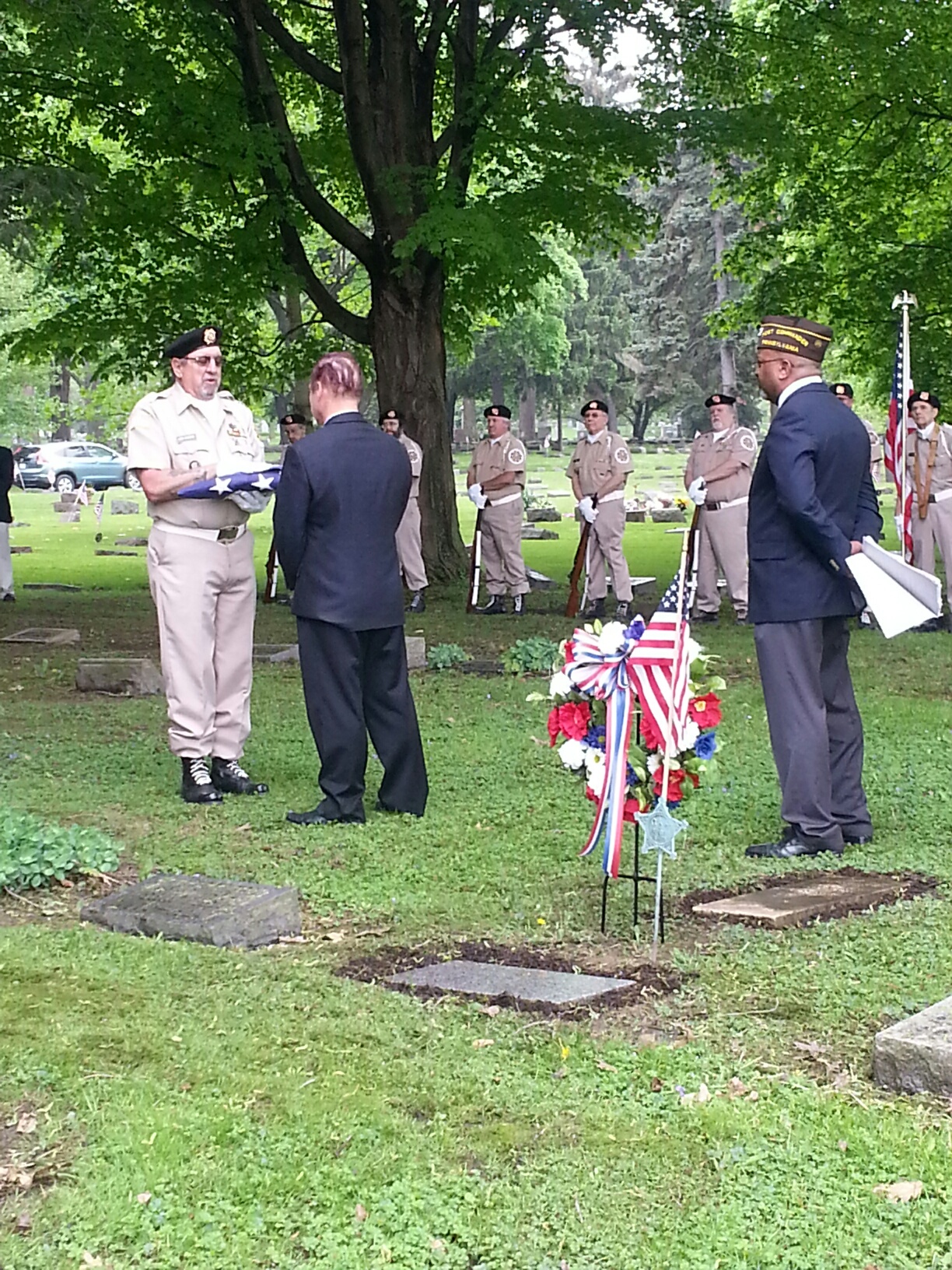 On Saturday, May 16 the VFW Billy Simpson Post 470 and Millcreek American Legion Post 773 honored Medal of Honor recipient Sgt. Milden H. Wilson during a graveside ceremony.
Sgt. Wilson fought for the Union during the Civil War, and later re-enlisted and fought in the West during the Indian Wars.  He received the Medal of Honor for his conduct in the Battle of Big Hole, fighting the Nez Perce Indians, in August 1877.
He remained in the US Army until 1897, and later moved to Erie, where he died in Lawrence Park in 1924.  His grave in Erie Cemetery is in Section 5, near 19th Street, and was marked with only a "Civil War" style government tablet, long since fallen to the ground, its marble worn by weather. That stone bore no recognition of his Medal of Honor Status. Researchers and historians in Ohio (his birthplace), Indiana (where he once lived) and Illinois theorized that he was interred in one of these areas.
However, thanks the Medal of Honor Historical Society's efforts, last year we learned of Sgt. Wilson's Medal of Honor status, and they were finally able to confirm his burial location.  Since then, the Medal of Honor Historical Society worked to find supporters to fund the private purchase of a Medal of Honor headstone, and they found great success with the veterans here in Erie.
At the ceremony, Robert Luppi, a descendant of Sgt. Wilson's and President of the Friends of Bear Paw, Big Hole and Canyon Creek Battlegrounds, spoke on behalf of the Wilson family and provided additional information to go with the original citation:
The President of the United States of America, in the name of Congress, takes pleasure in presenting the Medal of Honor to Sergeant Milden H. Wilson, United States Army, for gallantry in forming company from line of skirmishes and deploying again under a galling fire, and in carrying dispatches at the imminent risk of his like, on 9 August 1877, while serving with Company I, 7th US Infantry, in action at Big Hole, Montana.