You are invited to join the Harborcreek Historical Society in celebrating completion of their wintertime project – design and fabrication of a historical marker commemorating Gospel Hill Burial Ground, a site which contains the graves of many early settlers of the Station Road area, on Saturday, May 30 at 10 am at the burial ground.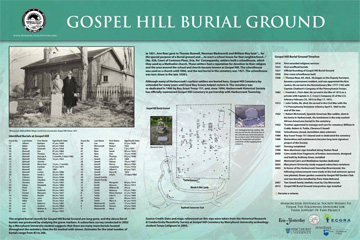 Funded in part by a grant through the Erie County Gaming Revenue Authority, the historical marker features a timeline and diagram of the burial ground, as well as information about the four veterans interred there. They include Revolutionary War veteran Thomas Rees, War of 1812 veteran Frederick Fitch, John Tuttle who served with the 112 PA Volunteer Infantry during the Civil War, and Robert McConnell, a Spanish American War veteran.
Data and maps referenced on the sign were taken from the Historical Research & Conductivity/Resistivity Survey at Gospel Hill Cemetery by Mercyhurst University Archeology student Tanya Catignani in 2002. The survey suggests that there are many more burials located throughout the cemetery than the 83 marked with stones.
The burial ground was established in 1827 on land donated by the Rees family. It was re-dedicated in 1980 by Boy Scout Troop 151, and, since 1994, the Society has maintained Gospel Hill Burial Ground in partnership with Harborcreek Township.
Gospel Hill Burial Ground is located on Station Road next to Penn State Erie, The Behrend College's Logan House. To access the burial ground, visitors are encouraged to park in the Logan House lot and follow the walking path from the parking area to the cemetery.
For additional information on the Society's events and programs, call (814) 899-4447 or visit www.harborcreekhistory.org.