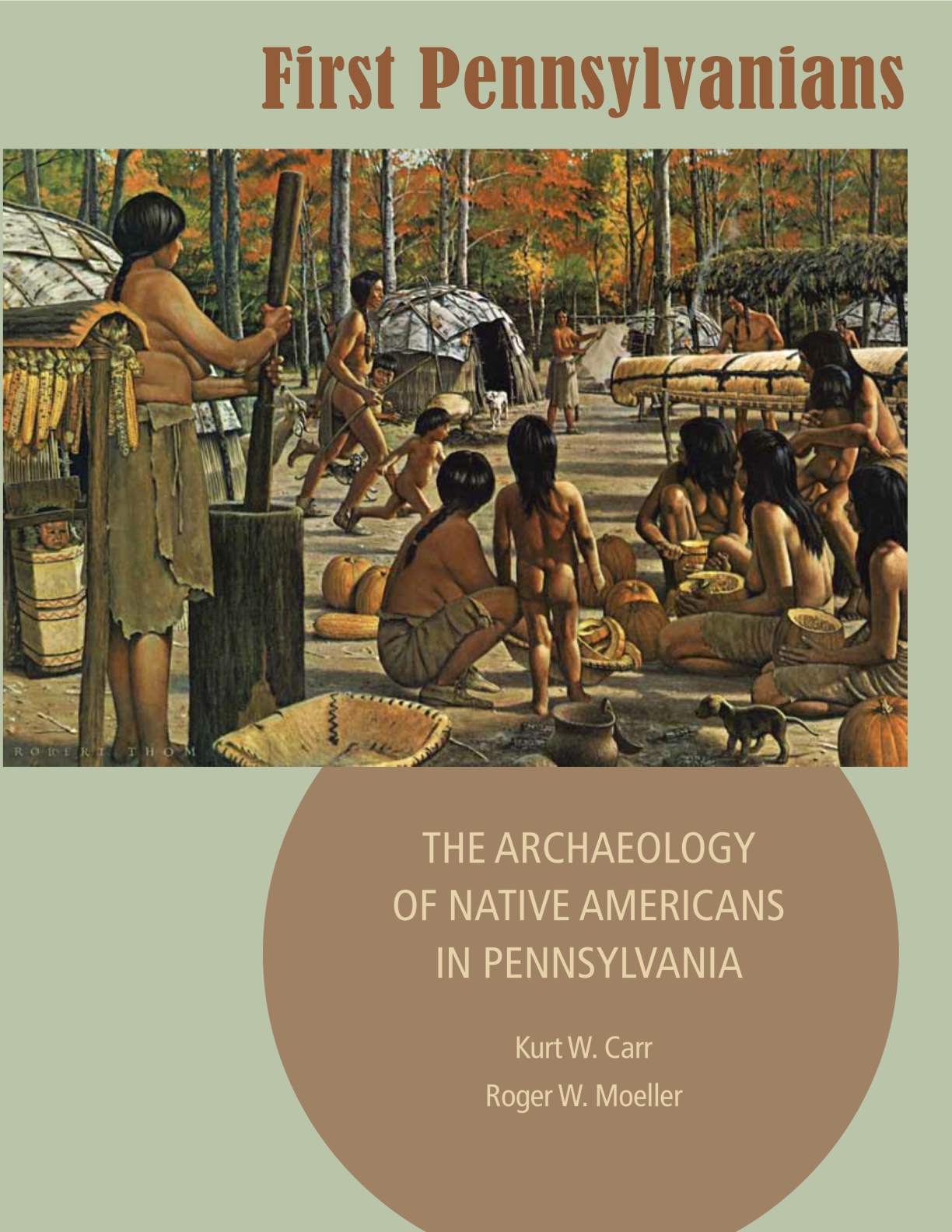 The Pennsylvania Historical and Museum Commission recently announced the publication of "First Pennsylvanians: The Archaeology of Native Americans in Pennsylvania," the first comprehensive review of Native American archaeology in Pennsylvania intended for a general audience. The book is based on recent findings and previously unpublished research.  With more than 240 illustrations of lifestyles, sites and artifacts, "First Pennsylvanians" discusses developments in the cultures of Native Americans who lived in the Delaware, Susquehanna and Ohio River basins from the Paleoindian period of 10,000 to 16,500 years ago to the time of first contact with Europeans.
Authors Kurt W. Carr, Ph.D., Senior Curator of Archaeology at The State Museum of Pennsylvania, and Roger W. Moeller, Ph.D., an archaeologist who has conducted significant archaeological research in Pennsylvania and other parts of the country, characterize each period by environmental conditions, tools, food, settlement patterns and social organization.
"Finally, an accessible and profusely illustrated account of Pennsylvania's past will be used in high school and introductory college courses, as well as to the many modern Pennsylvanians who are curious about the people who were here before us," said Sarah Neusius, author of "Seeking Our Past: An Introduction to North American Archaeology" and Professor of Anthropology at Indiana University of Pennsylvania.  "Carr and Moeller share their extensive knowledge while punctuating the archaeological story with first-person vignettes and the voices of other archaeologists describing their passion for the field.  I look forward to using this book as a resource in working with the public and in my undergraduate teaching."
Funding for "First Pennsylvanians" was furnished, in part, by Westmoreland County through an agreement with the Federal Emergency Management Agency.
The 256-page "First Pennsylvanians" has a retail price of $29.95 and is available at www.ShopPAHeritage.com, The State Museum Shop in Harrisburg and Amazon.com. Over the next few months, the book will become available at retail and online bookstores, college bookstores, and other museum shops and libraries.
The Pennsylvania Historical and Museum Commission is the official history agency of the Commonwealth of Pennsylvania. Visit the commission online at www.phmc.state.pa.us.