Presented by Erie County Historical Society in cooperation with Erie Cemetery Association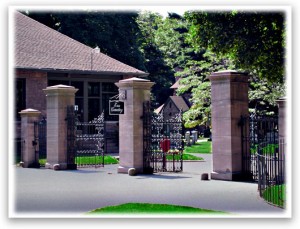 June 17th – War of 1812
Visit the gravesites of the men who built the fleet and the soldiers and sailors who manned it.
July 15th – Special Women of Erie
Learn about Erie's "first" female physician, the difficult life of a brewer's wife and more!
August 19th – Mausoleums on the Hilltop
Learn more about those entombed in the cemetery's 14 mausoleums.
September 16th – Erieites and the Headstones on Their Graves
Find the meaning in what is known as "cemetery art, " the imagery and icons carved into headstones.
October 21st and 28th – Ghosts and Legends
Mysterious legends and tall tales of those laid to rest in the cemetery.
Tours begin at 11 am and 2 pm, and last approximately 90 minutes. Reservations are suggested and can be made by calling the Erie County Historical Society at 814.454.1813. Tickets are $8 for adults, $4 for children, $6 for adult ECHS members and $3 for ECHS child members.
Tours were developed by avid genealogist and long-time member Caroline Reichel.