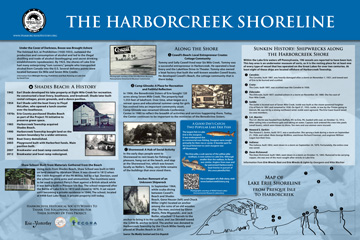 You're invited to join the Harborcreek Historical Society and Harborcreek Township in dedicating a new historical marker at Shades Beach Saturday, May 20th at 10 am. The marker, which was funded in part by the Erie County Gaming Revenue Authority, celebrates the history of Harborcreek's shoreline.
Guest speakers for the dedication include Honey Stempka, Founder and CEO of Undo Undone and Project Manager for the Lake Erie Quadrangle National Marine Sanctuary Designation, and Jeanette Schnars, Executive Director of the Regional Science Consortium and member of the Pennsylvania Archaeological Shipwreck Survey Team (P.A.S.S.T.). Together, they will talk about recent efforts to identify, survey and document all shipwrecks in PA waters.
Refreshments provided.