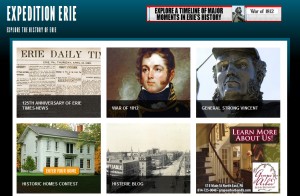 If you haven't yet checked out the Erie Times News Expedition Erie, you should.
The interactive website, which launched in April, features articles and photographs from the ETN archives, historical timelines, a HistERIE blog, and an archive of the ever-popular "What's in a name?" and "Things to know about Erie" columns. Matt Martin, Managing Editor/Digital, is leading content development and growth of the new site.
The site was created as part of the commemoration of the ETN 125th anniversary year, which coincidentally is also a commemoration year for the Battle of Lake Erie (1813, War of 1812) and the Battle of Gettysburg (1863, Civil War).